About Us
Kalamaula was the first Hawaiian homestead community developed in 1921 as a demonstration community after the establishment of the Hawaiian Homes Act.


The Kalamaula Homesteaders Association (KHA) was founded in 1961 and became a non-profit 501(c)(3) entity since January 2010.
KHA was established to:
challenge and inspire youth who live on homestead land to achieve their full potential by providing support and opportunities for advancement in education
promote better health for our Kalamaula community and homesteader's outside of Kalamaula through education
preserve and protect Hawaii's natural environment, including Kiowea Park in Kalamaula in particular, through the stewardship of our lands consistent with Hawaiian culture, values, and traditional methods of resource management.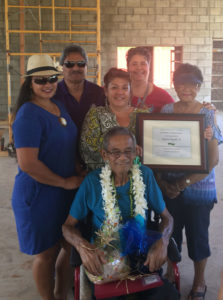 Some of the initiatives that the Kalamaula Homesteaders Association has participated in include the following:
Kalanianaole Hall – partnered with various organizations to restore and renovate the historic building and currently oversees and manages the Hall.
Kiowea Park – made improvements to the park and continues to manage and maintain the Park.
Fire Break Project – worked to develop and expand a fire break to ensure fire safety for the community.
Community Pasture Project-played a pivotal role in the island-wide development of livestock ventures for the island.
KHA plays a critical advocacy role for the Kalamaula Community on issues related to housing, water, and other concerns of homestead residents.
Coming Events
Covid-19 Information